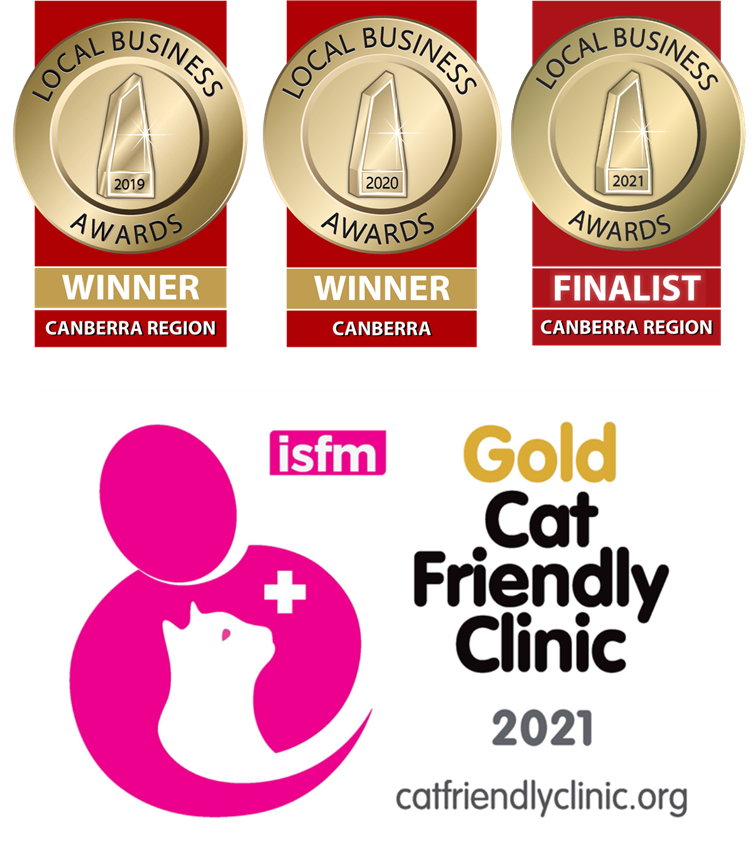 Your Canberra Veterinarian
Capital Veterinary Hospital is pleased to serve Canberra, Belconnen, Fyshwick, Phillip, Griffith, Barton, Deakin, Kambah, Kingston, Capital Hill, Gungahlin, Narrabundah, Greenway, Wanniassa, Ngunnawal, Yarralumla, Woden Valley, Tuggeranong, Gordon, Banks, Coombs, Wright, Weston Creek, ACT and the surrounding areas. It is our goal at Capital Veterinary Hospital to provide the very best veterinary care to your pets as our patients. Our doctors and hospital staff strive to continue their education to bring you the highest quality care available. We also want you and your pets to feel comfortable while in our office.Our philosophy is to care for all pets as if they were ours. To us, this means we are going to give them the same love, attention and care as though we were their owner. We are a team of animal lovers here to give our patients the attention and care they deserve.We are also here for you! We know that being a pet owner can be challenging and scary. We want to give your pets the lives they deserve. We know the best way to do that is to help you.
Positive: Professionalism, Quality, Reliability, Responsiveness, Value
Dr Ali and his team are amazing - I took my dogs there for the first time last year and was really impressed with the whole team, they were very friendly and made us all feel welcome from the first visit. It was great to be invited in (not wait in your car) and have your pets cared for the way they do. Everyone is friendly, caring and compassionate whilst still professional.
It was obvious they all care about their patients, and their understanding and compassion shown was really appreciated; my dog agrees - he is still excited to visit - even after major surgery and numerous visits for dressing changes etc..
When my older dog fell ill after Christmas Dr Ali saw her straight away; presuming the worst I asked what I should do - he said it was absolutely worth treating her and he was 100% correct.- thanks to Dr Ali and his team I have two healthily happy dogs again.

I had to take my dog here out of hours due to severe illness. Fantastic. Dr Ali was great. Will make this my regular vet from now on

So efficient, kind and compassionate. Thank you Dr Ali and team for your care of our beloved Silky Terrier, Buddy. We are so grateful for your care.

We can't thank Dr Ali and his team enough for looking after our Smooth Fox Terrier, Alby. From our first consultation with Dr Ali when he took the time to explain the TPLO surgery, recovery and rehabilitation process to repair Alby's cruciate ligament ruptured we were convinced that we had found our forever vet. Throw in the boarding while we attended a funeral, treatment for pancreatitis and a severe infection ear infection in a pup in our care, we have experienced so much loving care and attention from the Capital Veterinary Hospital. The surgery is new, clean and bright and has great accessibility both in location and the hours of business. The veterinary team are caring, friendly and professional. We are so glad the practice was recommended to us ... and Alby loves going to see the vet now. Thank you all for giving us peace of mind knowing that Alby has received the best care possible..

Thorough. Compassionate. Reasonably priced. Great new practice. Highly recommended. I am not in any way affiliated with this business.

We take both our cat and dog here! wonderful vet/staff. I highly recommend Capitalvet!

https://business.google.com/reviews/l/16618166102424292813#:~:text=JustineNordin-,,,-6daysago Dr Ali and his team are professional and lovely. They all clearly care about the pets brought in to see them and they take the time to explain the procedures, the outcomes and options. Thank you all for being so lovely.


Ranks up there with one of the best vetinarian services I have had in 45 years in Canberra. Dr Ali and his staff offer a caring and compassionate service

THANK YOU for being so lovely and professional and for looking after our native wildlife 🥰

We've booked in with the Vet here twice and boarded our Pitbull for 5 days and the whole team is absolutely fantastic. The Vet is so personable and knowledgeable, he made us feel so comfortable and confident in his treatment of our fur baby. The ladies who looked after our boy were so accomodating and Ryker was in a great mood when he got home (unlike other times when he came home from other kennels very depressed). On top of all of that the prices are very reasonable and they'll fit you in for an emergency. We honestly can't sing Capital Veterinary Hospital's praises enough, if you're in the area definitely give them a call.