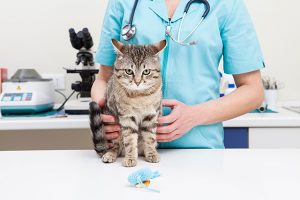 Regular exams and checkups are a critical component of your pet's health care. We advise all pet owners to bring their animals in for routine examinations. We offer consultation and treatment for variety of animals including dogs, cats, ferrets, rabbits, rats, mice, birds, reptiles, exotic and wildlife.
Seeing your pets for regular checkups allows our veterinarians to establish a baseline in your pet's body chemistry so that we can be aware of any potentially harmful changes.
Capital veterinary Hospital is a cat friendly practice. Besides separated entry doors and waiting area for dogs and cats, we have separate examination rooms for cats and dogs . We also have different treatment areas for dogs and cats. If both dog and cat are visiting us in the same visit, please bring them in the dog door. You are more than welcome to bring both into the dog's examination room or take your cat to cat's waiting area and examination room.  Please make sure your dog remains in dog's waiting area.